The Charm and History of Mediterranean Style Houses, Presented by Orlando Winter Park Florida Architect John Henry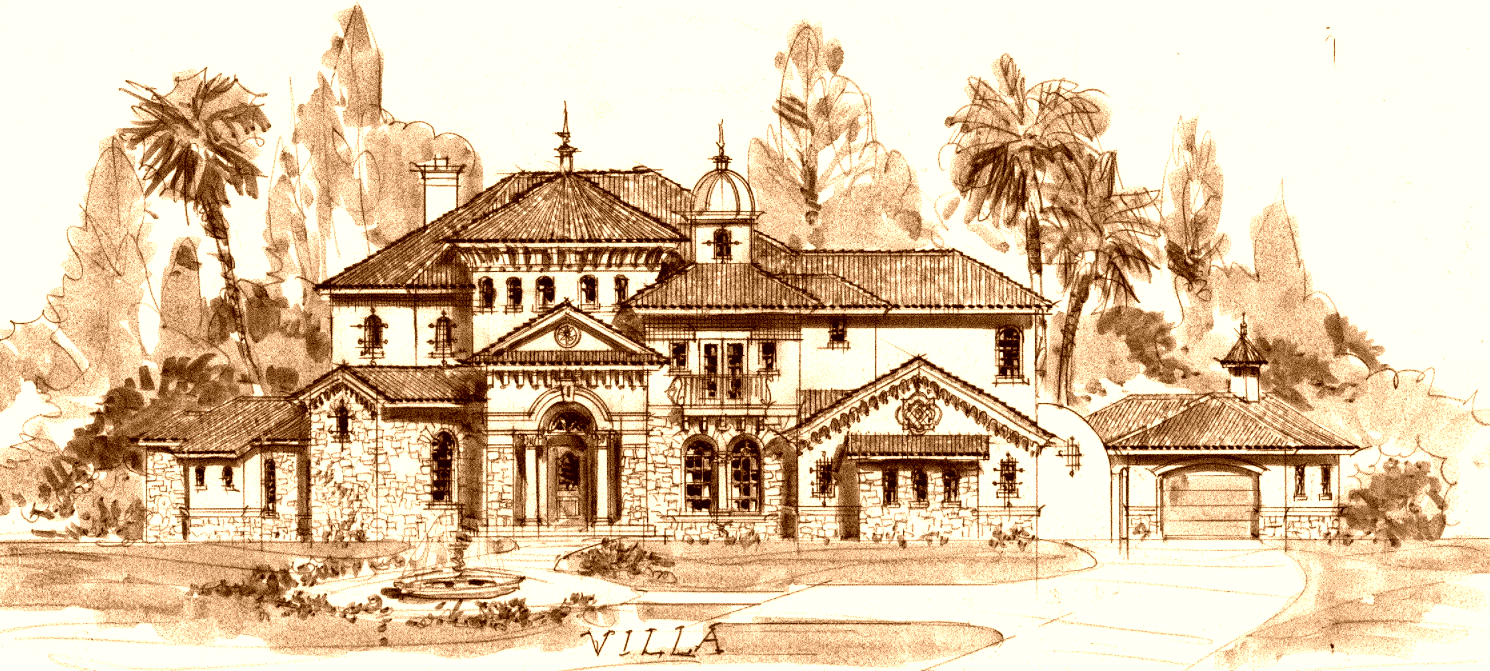 There is a quixotic appeal of the wonderful dwellings, villas, and palaces that originate in the lands bordering the Mediterranean Sea by American homeowners, architects, and builders. In most cases, the simplicity of form and geometric integrity, clean and bright harmony of color, and earthy materials seem irresistible -- to love and emulate.
While these houses originate in a warm dry climate, they are reconstructed in spirit from the sunny humid climates of Florida and Texas, to the drier states of Arizona, New Mexico, and California. And they have been found in the rainiest and coldest of areas as well.
When one visits Turkey, Greece, Italy, Portugal, Spain, France or Morocco, the impression of smaller houses built next to each other, whitewashed, with multicolored roofs, is simply charming to behold.
But there are differences of course due to culture and building practice, availability of materials, etc. which culminate in a regional or local style. And historically, the further back one goes the more simple and primitive the forms. In the southern and eastern Mediterranean, the roofs are often flat and act as rainwater catches for potable storage. Dwellings are smaller interlocking squares with no pitched roofs. The absence of any color is due to the limewash that maintains cleanliness, is bug resistant, mold resistant, and reflects heat.
On the other side of the Sea, where a more (northern) European tradition of pitched roofs prevail, you have the same small houses, now with single pitch tiled roofs, or sometimes
just sloping roofs. Stone walls in many cases have not been plastered but those that are will also be painted. Skipping forward to the Renaissance a new sensibility about design as a philosophical art developed among master masons. They used the same materials to design structures that now were inspired by things they found in the ground: Greek and Roman temples.
These temples became iconic to Western Civilization. The perfect symmetry was mimicked
from small rural hamlets to the great churches of the southern European countries up to the northern bounds. The 'Mediterranean' ideal changed bit from region to region depending on climate, materials, workmanship, and level of enlightenment.
Fast forward to the last 100 years in the United States and you will find that stucco, stone, and tile - with wood and iron details - were the basis for small entry level houses, custom homes, and large luxury estates which borrowed exacting details from Italian villas and manors. But they were not all symmetrical. In fact, due to the development of haciendas
from Colonial Spanish settlement, these freewheeling asymmetrical working ranches and estates inspired a more relaxed and informal design genre that was picked up in the new California and transmogrified in other southern states especially.
In Florida during the 1920s, Addison Mizner combined Iberian motifs successfully and used his own ingenuity to create magical estates in the Palm Beach area. A little earlier in Newport, Rhode Island, the Vanderbilts asked Richard Morris Hunt to create a replica of an Italian Genovese palace. Other formal Renaissance inspired estates were built on the East Coast and in other areas where Gilded Age millionaires could afford the size and extensive detailing in and out. Often these were clad in limestone or even marble.
While all the Old World prototypes were built of stone walls clad with stucco and roofed with ceramic tile over wood timbers, here in the United States wood framing more often comprises the main structure with a cheaper stucco finish and often concrete tile roofs on wood trusses. In some areas concrete block is used for the perimeter walls, which allows the best bonding for exterior plaster.
Interiors of U.S. custom houses are a smorgasbord ranging from ultra contemporary to select period details in fireplaces, moldings, and some stone flooring. The 'contemporary
Mediterranean' style allows a free hand in complex roofing and usually asymmetrical facades due to typically tight urban or suburban lot restrictions. It is very difficult to create a fully symmetrical design with garages and the number of rooms limiting the plan on a smaller lot.
The Romans introduced the arch and this structural element, played against horizontal members, has been called the Palladian Arch. The Greeks employed no arches in their temples. Romans invented concrete as well and were able to build public buildings efficiently with thick brick walls filled with a concrete stubble.
Graceful full round arches are an Italian Renaissance motif and with arched windows below, create an iconic 'Mediterranean' style. Use of columns, not as on a temple, but to frame windows and doors or used rhythmically at the front and rear porches, is the second
important motif. These can be simple or very detailed. When they are decorative it is important to wrap similar complex details in the moldings around doors and windows, and as demarcations of floors upon floors on the facade, etc.
Wood rafters and balconies are more a Spanish Colonial motif than an Italian one. In buildings of stature, the entire facade and perimeter of the house were finished in either a stone veneer or lime stucco. Wood rafters under the eaves are seen in all Northern Mediterranean houses and they are often exposed inside and carved in a decorative manner in higher standing villas and palaces.
The ceramic tile of southern European houses is an expensive roofing choice now, supplanted in many entry-level to medium quality homes with similar profiled concrete roofing tile. The choice of color and mix allows the replication of a few hundred years of
replacing hand worked and fired ceramic tile based on nearby silt deposits at the rivers' edge. Roofs can be open gable or hipped.
Towers and other roof ornamentation is appropriated from larger period villas and palaces, some fortified elements as well. A playful hand can create several different combinations of classical details and simple walls and fenestration (the order and placement of windows).
All together the modern Mediterranean house offers a great palette of design elements, floor plans, interesting facades, and interiors. Certain treatments and profiles are regionally recognized styles. So that we now see smaller elemental designs in starter homes to an eclectic mix of towers, chimneys, porches, arches and columns, etc. for mid-level to upper echelon custom homes. Sometimes the results can be quite exotic!